It's been one whole month!!
Wow, we really can't thank you all enough! It's been one month since we opened our doors to Lets Play Big and we have had so many of you come and visit. The reviews that we have received have been amazing and lots of you have been back.
We can remember our first session like it was yesterday. We had cloud dough in one tray, spaghetti in other and a water table with no cloths underneath any. The kids came along and had a blast getting messy and creative and very wet (mine and my friends little boy in particular), which is what it is all about…. then it was time for our first tidy up. Well all I can say it took about 2 hours!! The oil from the cloud dough had mixed with the spaghetti and water and stuck to every piece of foam tile on the floor. That night our arms were aching from good old hard scrubbing!!! We have now learnt from our mistake and have cloths underneath to catch most of the mess from children feet 🙂
Only a few days after we opened we had our first party…. We were very nervous, over thinking everything to make sure we had everything prepared so it went smoothly. And it did, Harlow had a fantastic day along with all her friends. They played with coloured rice, made potions and decorated cakes and smashed them along with other things. Overall it was amazing!
I can't believe there is only 1 more week of the summer holidays left. However, I have one very excited girl for going back to school to start Y1 (and still need to sort out school uniform)
We have some very exciting new things coming to Lets Play Big in September, so watch out.
In the past month we have had gloop, jelly and custard, spaghetti, beans, cake smashing, parties and lots of glitter and crafts. And we can't wait for more messy, sensory and crafty fun!!
Thank you
Jade & Tracy
This all new TV show, being simultaneously released on DVD features Mack, a lovable, moose-like lummox, and Moxy, a feisty whirlwind of a raccoon/fox go-getter, on four exciting adventures! Together with a helpful Trooper, Mack & Moxy set out to rescue another Great Helpee in a far off mystical place called HelpeeLand. Along the way, Mack & Moxy meet a new Friend in Need who ends up teaching us a new important cause. Guest celebrity, Josh Duhamel (Transformers, All My Children), helps the Heroes' mission in support of Save the Children, providing quality preschool programs to under-served children around the world since 1932. In this DVD, Mack & Moxy introduce us to Save the Children, American Red Cross, Feeding America and World Wildlife Fund. KIDS FIRST! Film Critic Abigail Zoe L. comments, "I learned a lot about different ways to care for others, compassion, important causes and the joy of helping others. In short, I learned what it is to be a humanitarian." See her full review below.
Mack & Moxy: The Great Helpee Heroes
By Abigail Zoe L, KIDS FIRST! Film Critic, age 8
The Mack & Moxy: The Great Helpee Heroes DVD is great! It is as entertaining as it is educational. I learned a lot about different ways to care for others, compassion, important causes and the joy of helping others. In short, I learned what it is to be a humanitarian.
This DVD features four different episodes from the new children's TV show, Mack & Moxy. In each episode the main characters go to HelpeeLand to save a "Great Helpee" from evil Shelfish Sheldon. This greedy character wants to steal all the happiness in the world just for himself.
On their journey, they always meet a friend in need who introduces them to a new and important cause. For example, in "Feeding Rainbow" we learn about the charity organization, "Feeding America" that provides hunger-relief through food banks/pantries for those who can't afford to purchase their own food. In the episode "Always be Prepared," we learn the importance of Emergency Preparedness and about the American Red Cross organization. Basically, we learn things about what to do in scary situations such as, if there is a fire, we should not grab a thing, "get low and go" and have a plan of action.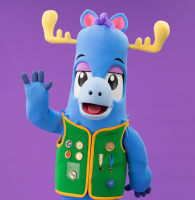 My favorite episode is a "Ty-Grrrr's Tale" because it is about saving tigers and I love animals. We also learn about the World Wildlife Fund that helps raise awareness and money to help and protect animals.
I love that each episode has a special celebrity guest. My favorite actor on this DVD is, Josh Duhamel who plays the Admirable in the episode, "Save The Children." He reminds us the importance of early education. I really like Josh because he's funny and entertaining.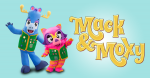 The message of this DVD, like the show, is about inspiring children to become great humanitarians. I actually had an opportunity to visit a live taping of the show and interview both the creator of the show, Brahm Wenger and Kelly McQuinn, the Co-Executive Producer. One of the things they shared was that the show teaches children in the language that they know. They explained that this is done with the show's bright colored characters, fun music, songs, dance and awesome stories that teach humanitarian lessons. They also shared how excited they are to be part of America's first kid's TV show about causes.
I believe 3 to 8-year-olds will really like this DVD and TV show with its adventurous stories, fun music and lively characters. I give the show five out of five stars, or should I say humanitarian stars. Finally, I hope that you too will find a cause from this DVD or in your own life that inspires you to become one of the next generation's great humanitarians. This DVD is available in stores on May 24, 2016 so be sure to check it out.
Sourced from http://www.huffingtonpost.com